Slim Down The Crunchy Way With These Three Celery Recipes
[Itching to try our celery recipes? Skip straight to them!]
There may be no more quintessential "diet food" than celery. Technically known as "apium graveolens," celery comes from the the apiaceae family, which also contains carrots and parsnips as well as some superfood
spices
like coriander, cumin, caraway, dill, and parsley.Celery is also one of the most commonly touted "
negative calorie foods
", and though research suggests that this is a myth, there's still some really good reasons that you've probably never met anyone who got fat eating celery! 100 g of celery contains only 17.6 calories and 2.4 g
sugar
, yet it also contains 40 percent of your recommended daily intake (RDI) of
Vitamin K
and 10 percent each of your of RDI of folate and vitamin A. It's also got 6 percent of your RDI of vitamin C!Celery is also rich in the
electrolytes
magnesium, potassium, and
sodium
, though this means you should probably watch the
added salt
! Celery also contains the
minerals
iron, phosphorous, molybdenum, and manganese, though less then 10 percent of each, and trace amounts of a variety of B vitamins.Additionally, celery is 95 percent
water
, which means that eating more celery or even drinking celery juice might be a good option for staying
hydrated
if you're burnt out on plain H20. There are only 30 to 45 calories and 6 to 9 g carbs in a full 16 oz of celery juice, meaning it's certainly a better choice than than a sugary fruit juice or even a
diet soda
!However, juicing your celery would rob you of the 1.6 grams of
fiber
that you would get in a 1 cup serving of raw celery and give the food a slightly higher
glycemic index
. Since all of celery's fiber is insoluble, it also might be particularly effective at speeding up the movement of food through your intestines.Yet celery's digestive benefits don't stop there. Celery has also been shown to have an alkalizing effect, and many have found it useful for combating
acid reflux
. A rat
study
also showed that celery consumption also may help protect against damage from stomach ulcers.Celery is also quite
rich
in
antioxidants
and other beneficial phytochemicals. Multiple
studies
suggest that it has anti-inflammatory properties, and research also suggests that it contains more than 25 anti inflammatory compounds! One of the most noteworthy of these compounds is luteolin, which has been found to have
anti-cancer
as well as
anti-inflammatory
properties. Luteolin and other flavonoids may also be particularly useful at combating
brain inflammation
and
neurodegenerative diseases.
Then there's apiginen, which can also protect against
cancer
and
inflammation
but has additionally been associated with
neurogenesis
, (the growth of new neurons in the
brain
). Rats given apiginen were also found to display improved memory and performance in a maze test.Celery has also long been used as a folk remedy for gout, arthritis, and other inflammatory conditions, and
studies
have found that celery seed extract may be at least as effective at certain drugs in treating pain caused by chronic disease.
Celery seed have also been found to have
anti-hypertensive
(anti-high blood pressure) effect in rats, and research tentatively
suggests
that celery might have a similar
effect
in humans. Celery also made our list of natural
diuretics
thanks to its high concentration of phthalides, which may also contribute to celery's anti-hypertensive effects!However, celery's heart healthy qualities don't stop there. Celery extract was also found to
reduce
the amount of lipids in the blood of rats fed a high fat diet, successfully reducing their bad
cholesterol
level in comparison to rats in a control group.Finally, rat
studies
also suggest that celery may support male fertility, possibly through its protective
effect
against fertility-damaging compounds.
To find the freshest celery, look for sturdy stalks and crisp leaves, and you should wait it until you are ready to use your celery to chop it to avoid nutrient loss. Studies have also shown that celery loses few nutrients when steamed, though boiling and blanching resulted in more significant antioxidant losses.
Storing your celery submerged in water may allow it to stay fresh longer, but you should still use your celery within five to seven days of buying it. Since you can't really
freeze
celery without destroying its composition, don't put any celery in your cart unless you're ready to commit!
Additionally, you shouldn't throw away the leaves of your celery since they contain calcium, potassium, and vitamin C, and you should also beware that they might spoil faster than the stalks—so eat them first!
One last word of warning before you embark on your celery-eating journey: celery did appear on the Environmental Working Group's list of a "dirty dozen" fruits and vegetables that were frequently contaminated with pesticides, so it may be worth springing for the
organic
version.
Celery can also trigger allergies in some people and can have a goitrogenic (thyroid-inhibiting) or diarrhea-inducing effect when consumed in excess.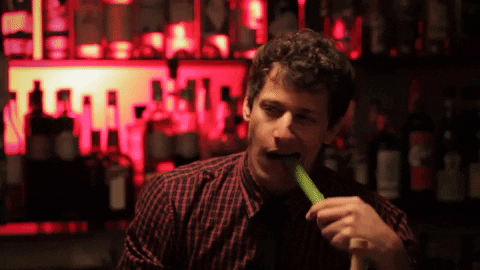 Yet as long as you stay moderate, celery is a great substitute for chips when it comes to your favorite dip, and they're an awesome low-calorie way to add crunch to a salad or even a sandwich! You can also use celery to liven up smoothies, stir-frys, juices, and soups. Plus, there's nothing wrong with just eating it plain!
Fresh celery devotees might most enjoy our Curried Celery Salad recipe, which combines diced celery with
onions
and
apple cider vinegar
for an even bigger health and
metabolism boost
. Those who are more fond of cooked veggies may want to try our Baked Celery or our filling Celery Soup. With a food so wholesome, there are few bad ways to enjoy!
Baked Celery
Bake your celery and add a few spices for a quick and easy veggie delight! Estimated nutritional value of 40 calories, .6 g fat, 0 mg cholesterol, 7.3 g carbohydrates, 2.6 g fiber, 4.5 g protein, and 2.9 g sugar.
Prep Time


10 minutes

Cook time


30 minutes

Yield


Makes 1-2 servings (1 vegetable)
Ingredients
1 cup celery

½ cup beef broth, chicken broth, or water

2 tablespoons lemon juice

2 tablespoons Bragg's liquid aminos

2 tablespoons chopped onions

1 clove fresh chopped garlic

1 bay leaf

Pinch of red pepper flakes

Paprika to taste

Salt and pepper to taste
Directions
Chop up celery into sticks and arrange in a baking dish. Dissolve spices in liquid ingredients and pour over the celery. Bake in 375 degree oven in until soft and lightly brown on top. Serve with the juices and sprinkle with paprika. Add salt and pepper to taste.
Recipe provided by Emma Moroni
Why enjoy your celery plain when you can curry it up? Estimated nutritional value of 33 calories, .6 g fat, 0 mg cholesterol, 4.7 g carbohydrates, 2 g fiber, 4.2 g protein, and 2.5 g sugar.
Prep Time


10 minutes

Cook time


30 minutes

Yield


Makes 1 serving (1 vegetable)
Ingredients
1 cup celery stalks, diced

2 tablespoons Bragg's liquid aminos

3 tablespoons lemon juice

1 tablespoon apple cider vinegar

1 tablespoon chopped green onions

Curry powder to taste

Stevia to taste
Directions
Add spices to liquid ingredients and mix thoroughly. Coat celery thoroughly and allow flavors to marinate for 20-30 minutes and serve. Variations: Add chopped tomatoes (used as a fruit serving)
Recipe provided by Emma Moroni
Celery Soup
If you prefer sipping your celery to crunching on it, this recipe is just for you! Estimated nutritional value of 29 calories, .2g fat, 0 mg cholesterol, 3.7 g carbohydrate, 1.9 g fiber, 2.8 g protein, and 1.4 g sugar.
Prep Time


10 minutes

Cook time


40 minutes

Yield


Makes 1 serving (1 vegetable)
Ingredients
1 cup celery (may use celery from crock pot cooking or 1 baked celery recipe)

2 cups chicken broth (or substitute 1 cup water for 1 cup broth)

¼ teaspoon thyme

1 bay leaf

¼ teaspoon dried basil

Salt and pepper to taste
Directions
Cook celery until very soft or use crock-pot or vegetable broth cooked celery. Puree in a food processor or blender with broth and spices. Simmer in a saucepan for 20-30 minutes.
Recipe provided by Emma Moroni