Why Crabs Are So Nutritious and 3 Essential Recipes
[If you wanna get eating, skip straight to the crab recipes!]
The crab is a member of the crustacean family known for its distinctive thick exoskeleton and sideways walk. About 850 species of crabs have been recognized, and they are found in all the world's oceans as well as in lakes and on land.
Like other shellfish decapods, crabs have ten legs. They feed primarily on algae and smaller varieties of shellfish, and, for pretty much all of human history, we've had quite some fun feeding on them!
Some varieties of crab popularly consumed by humans are blue crabs, snow crabs, brown crabs, dungeness crabs, mud crabs, and king crabs, which are particularly prized for their large meaty claws and legs.
Like
lobster
, crab is usually considered a delicacy, but it's one that can actually be quite good for you! Though nutritional stats can vary slightly by type of crab, all crabs tend to be high in protein and low in fat, as well as to contain practically no carbohydrates. A 3 oz cooked serving of crab contains about 80 calories, 20 gms of protein, 1 gm of fat, and less than 1 gm of carbohydrate.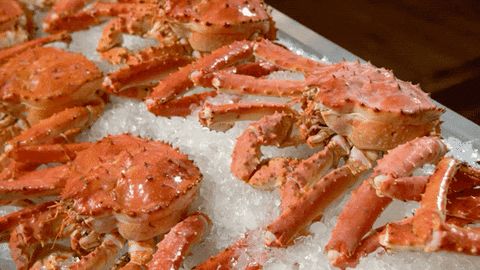 Crab meat also contains a wide variety of healthful nutrients. For example, it is quite high in the mineral phosphorous, which crucial for bone health and for proper kidney and liver functioning. Since a better functioning kidney and liver can increase your body's ability to get rid of toxins, this is pretty big health win!
Crab also contains several important minerals. These include chromium, which aids in the metabolism of sugar; copper, which can speed up healing after an injury and ensure the proper absorption of iron;
calcium
, which is crucial for bone growth and muscle function; iron, which enables your blood to transport oxygen; and zinc, which helps your body to make proteins and DNA and to fight off invading infections.An 100 g serving of crab also provides your entire suggested daily intake of selenium, 3 times more than cod would and 12 times more than beef! This mineral can boost the immune system, serve as an
antioxidant
, help you metabolize thyroid hormone, and reduce the potential toxic effects of
mercury
. Crab is also high in
vitamin A
, which can help with eye health, and riboflavin (vitamin B2), which helps your body break down proteins and maintain its energy stores. It also provides you with 3 times your daily recommended dose of vitamin B12, which is critical for blood and nerve health.Though crab is lower in saturated fat than most other protein sources, it is high in
sodium
and in
cholesterol
, so it would probably be better to enjoy as an occasional treat rather than an everyday dish. Experts suggest that eating crab two or three times a week would be ideal for balancing the benefits and risks.Finally, crabs are second only to salmon in their omega-3 fatty acid content. The fatty acids that crabs contain also happen to be long-chain, which are much easier for our body to use than the shorter chain omega-3 found in oils and vegetables. Since adequate intake of omega-3 is critical for
brain health
and many other bodily processes, the chance to pick some up in a crab meal is one that you don't want to miss!
Now, which crab to grab? Crab meat tends to be classified as either white or brown crab meat. The more commonly used white crab meat is known for its moist, delicate, and flaky texture, and it's the one you'll find used in most popular crab dishes.
Brown crab meat tends to higher in fat, but also higher in omega-3 fatty acids. It also has a less meaty and more pâté-like taste. Since many people find this flavor unappealing, brown crab meat is often available for a lower price.
One kind of crab that you definitely don't want on your menu is imitation crab meat. This "meat," known as surimi, is made from the flesh of assorted fishes, which is minced into a paste and blended with other ingredients, then pressed into a shape that mimics crab meat.
Though a serving of surimi has a similar number of
calories
as a serving of crab, it is lower in protein and higher in carbs. The processing of surimi also tends to wash away any nutrients these fish might have originally had, and the fillers added to it can include
sugar
, starches, vegetable oil, preservatives,
MSG
, and other flavorings—all ingredients you'd do well to stay for away from!
Luckily, imitation crab is required to be labeled as such, and is sometimes indicated on restaurant menus by the spelling "krab." You should also avoid breaded or fried crab dishes, or those served with heavy sauces or high-carb sides.
However, since we've brought you three delicious and healthy crab recipes to enjoy, there's nothing to be crabby about! Our 123Diet Crabcake, for instance, gets its crunch from low-calorie
melba toast
and its flavor from
lemon
garnish, while our Crab Bisque swaps creamy soup for a lighter veggie broth. Finally, our Spicy Crab Salad uses
fat-burning
and flavorful ingredients like
apple cider vinegar
, cayenne pepper, and
garlic powder
to enhance the health and culinary power of this super shellfish.
123Diet Crab Cakes
Enjoy this seafood staple the 123Diet way with this amazing recipe! Estimated nutritional value of 202 calories, 2.8g fat, 54 mg cholesterol, 23.7 g, 2g fiber, 16g protein, and 1.2g sugar.
Prep Time


10 minutes

Cook time


20 minutes

Yield


Makes 1 serving (1 protein, 1 Melba toast)
Ingredients
100 grams snow or king crab meat

1 serving Melba toast crumbs

1 tablespoon lemon juice

1 teaspoon apple cider vinegar

1/8 teaspoon onion powder

1 tablespoon finely minced onion

1 clove crushed and minced garlic

Cayenne to taste

Salt and black pepper to taste
Directions
In a small bowl combine ingredients and form into cakes. Press crab cakes into muffin tins and bake at 350 degrees for about 10-20 minutes until slightly brown on top. The crab mixture can also be sautéed until warm or chilled and served over a green salad with lemon garnish and topped with Melba toast crumbs.
Phase 3 Modifications
Add a little egg to the crab mixture and fry with a little butter or oil. Serve with Cajun spiced cream sauce or mayonnaise.
Recipe provided by Emma Moroni
Crab Bisque
Enjoy a luxurious bisque the healthy day with this amazing recipe! Estimated nutritional value of 213 calories, 5.3g fat, 55 mg cholesterol, 13.6 g carbohydrate, 2.5 g fiber, 24.6 g protein, and 6.9g sugar.
Prep Time


10 minutes

Cook time


30 minutes

Yield


Makes 1 serving (1 protein, 1 vegetable)
Ingredients
100 grams crab meat

1 cup tomatoes chopped

2 cups vegetable broth (or substitute 1 cup water for 1 cup broth)

1 tablespoon onion minced

1 clove garlic crushed and minced

1 teaspoon Old Bay seasoning

1 bay leaf

1 tablespoon milk (optional)

Cayenne pepper to taste

Salt and black pepper to taste
Directions
Puree tomatoes and broth in a food processor or blender. Heat up mixture in a small saucepan. Add the crab and spices and simmer for 20-30 minutes stirring frequently.
Phase 3 Modifications
Add half and half or cream.
Recipe provided by Emma Moroni
Spicy Crab Salad
Estimated nutritional value of 131 calories, 2.1g fat, 100 mg cholesterol, 5 g carbohydrates, 2g fiber, 22.8 g protein, and 2.4 g sugar.
Prep Time


10 minutes

Cook time


15 minutes

Yield


Makes one serving (1 protein, 1 vegetable)
Ingredients
100 grams crab

Celery diced (optional)

1 tablespoon lemon juice

2 teaspoons apple cider vinegar

1 tablespoon Bragg's liquid aminos

1 tablespoon finely minced red onion

Dash of garlic powder

Dash of onion powder

Cayenne pepper to taste

Salt and black pepper to taste
Directions
Steam the crab and chop into medium chunks. Toss with onions, spices, and liquid ingredients. Marinate for 15 minutes or more and serve over mixed green salad or add diced celery.
Variations
You may substitute 1 teaspoon of Old Bay seasoning for the powdered ingredients.
Recipe provided by Emma Moroni